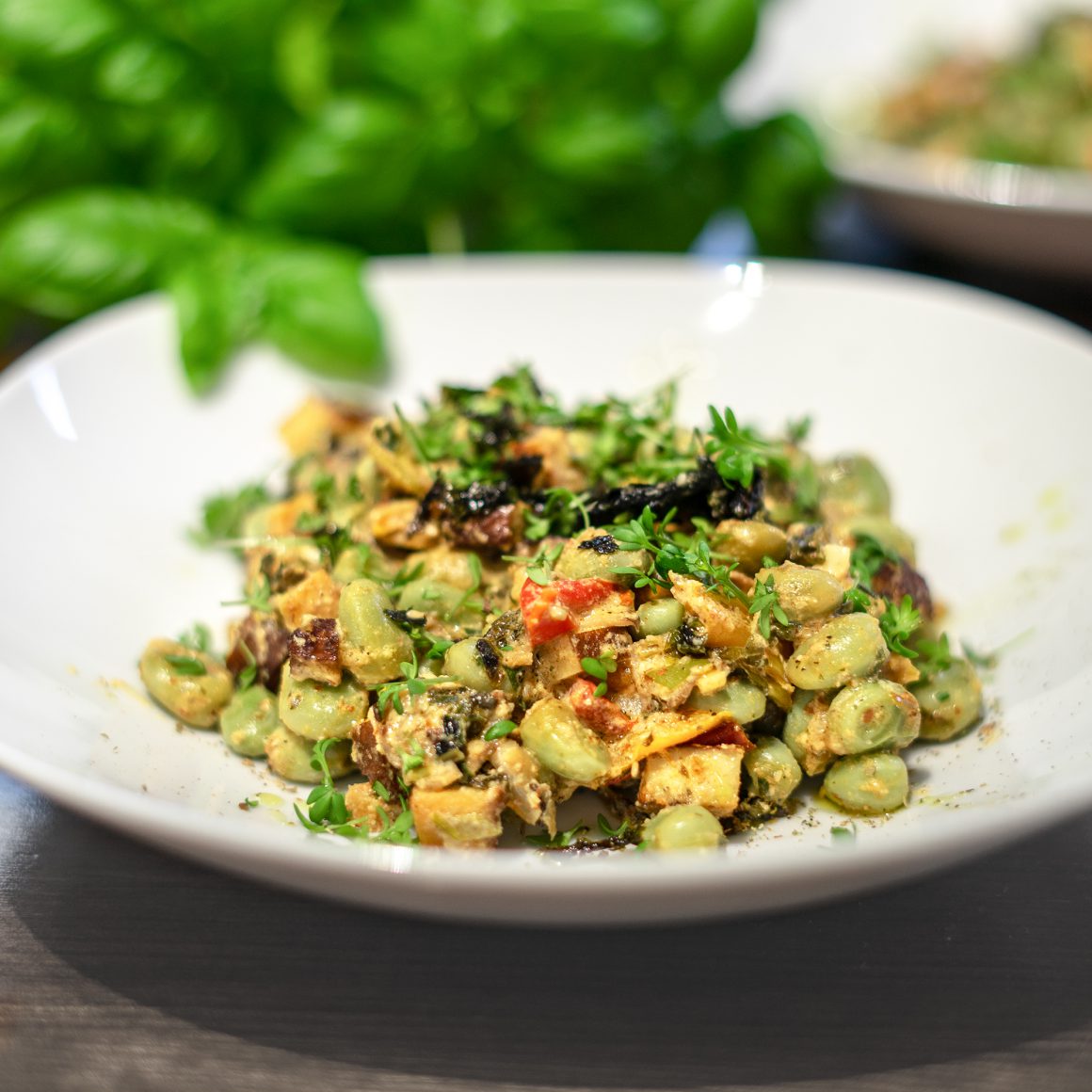 Super Healthy Creamy Beans (High Protein, High Iron)
Want to become a super vegan? Are you afraid you are lacking protein, iron or zinc?
This dish is perfect for you! Additionally, this is a real time-saver and quite an exotic fusion of Italian and Asian food.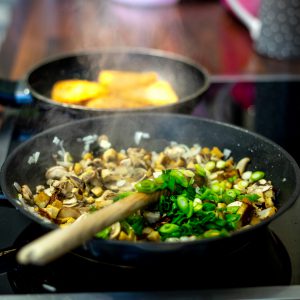 Serves two or one very hungry person. Contains in total 100g of protein, 35mg of iron and a lot of iodine from the seaweed. Zinc is also quite high with 14mg, which is approximately your daily intake, if you share a portion 😉
The recommended daily intake of iron is 15mg for women and 10mg for men. For zinc, it is 10mg (men) and 7mg (women).
If you wonder, where to buy toasted seaweed, you might go to your local asian supermarket, wholesale, or as a good replacement, take a nori leaf and chop it.
Therefore the dish is not only suitable for athletes, but also for everyone who likes to eat healthy and tasty food:)!
If you cook the dish, please give us your feedback. How do you like it? You are also welcome to send us pictures of course :)!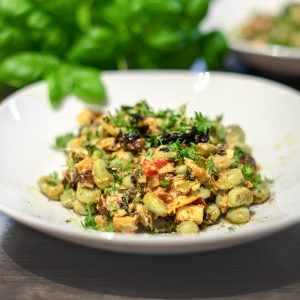 High Protein Creamy Fava Beans
Ingredients
500

g

fava beans

frozen or fresh

1

block

smoked tofu

small cubes

1

cup

mushrooms

sliced or minced

1

onion

chopped

2

cloves garlic

minced

1/2

jar

grilled or fresh red pepper

sliced

1/2 – 1

cup

cream sauce of your choice*

see below

2

tbsp

toasted seaweed

2

tbsp

sesame seeds

2

tbsp

soy sauce

1

tbsp

seasoning

pepper, curry, Italian herbs, paprika
Our Quick Cream Sauce
3

tbsp

almond butter

1

tbsp

tahini (sesame seed butter)

1/2

cup

vegetable juice or broth

1 – 2

tbsp

nutritional yeast

1

tsp

seasoning

salt, pepper, curry, BBQ, Italian herbs, whatever you like
Instructions
Cook beans. Frozen beans take around 10 minutes, fresh will be done in 8.

Pour oil into a pan, fry tofu for 2 minutes and add mushrooms.

After another minute, add onions. When everything has a nice color, put garlic and red pepper into the pan.

Prepare the creamy sauce by mixing all the ingredients and pour it over your veggies.


Add sesame seeds, toasted seaweed, and soy sauce. Mix everything, and season it as you like, e.g. using Italian herbs.

Serve with cress, scallions, or fresh herbs.