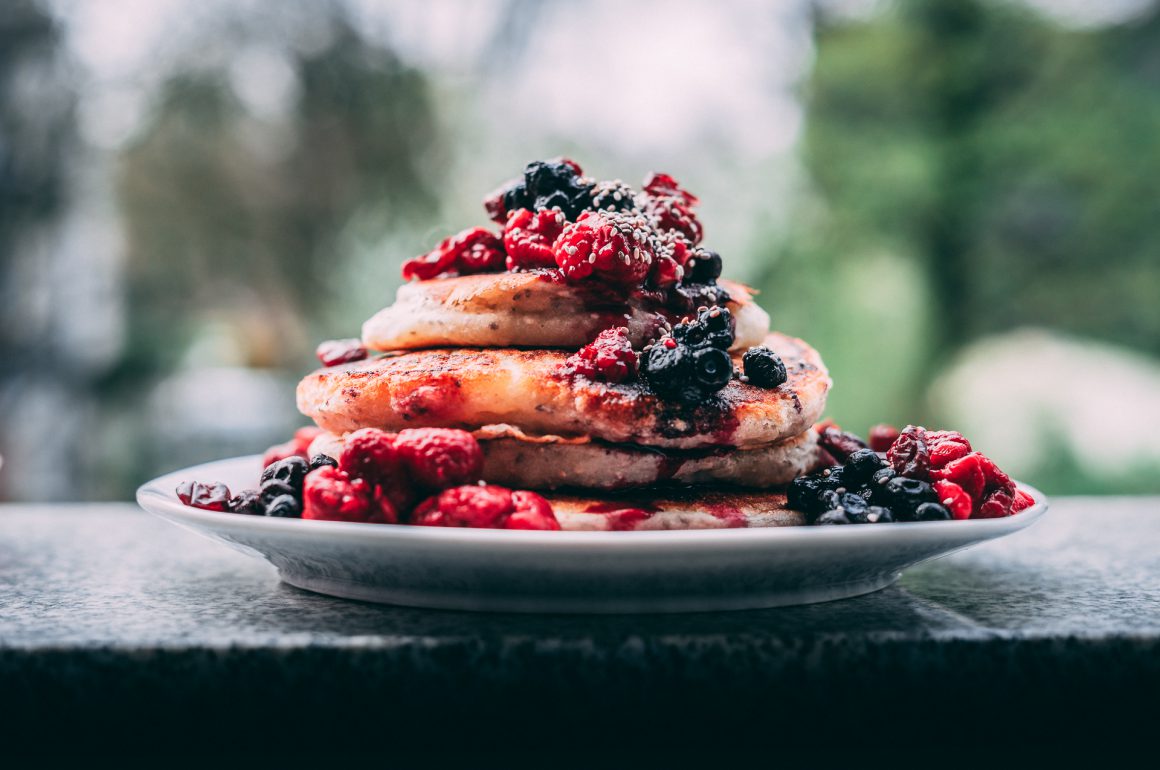 Quick pancakes – naturally sweet :)
On Sunday, we had a real soul-food breakfast: pancakes with fruits and maple syrup. The pancakes are sugar-free – we use apple puree, which is naturally sweet without added sugar. Furthermore, the pectin from the apple puree makes it bind, which is why this recipe is also egg-free 😉
Chia seeds are rich in protein and fibre, but also give the pancakes a beautiful consistency and appearance. In the video we use black and white chia seeds. This has the background that the black ones were empty and the white ones are about to reach their expiration date 😀 What is very important in our opinion: use sparkling water. The carbonic acid makes the dough even more fluffy. But the fluffiness is quickly lost if you leave the dough to stand for too long. Therefore, always use the dough immediately.
Below in the recipe you'll find quite exact quantities, but you can do it all easily by eye. The most important thing is to make sure that the consistency is nice and smooth. That's how it looks when we make the pancakes:
Tip: Apple puree binds about as well as egg. You can easily replace an egg with the same amount of apple puree (3 tbsp).
And here's the super-simple recipe: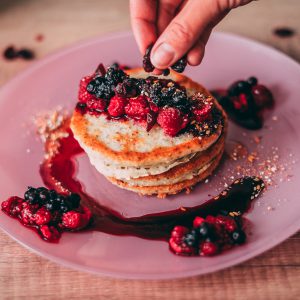 Pancakes (sugar-free, vegan)
You want a quick recipe for pancakes? Simple? Sugar-free (naturally sweet)? Great, then try it out!
Disclaimer: the portion sizes are given for "dessert size". If your mouth is already watering, it's best to double all the measures in the recipe 😉
Ingredients
125

g

flour

We used instant flour in the video, but can also be any other.

100 – 125

ml

water

sparkling

3

tbsp

apple puree

unsweetened

1

tsp

baking soda

2

tbsp

chia seeds
Serve with
3

tbsp

berries

fresh, frozen or precooked

1

tbsp

maple syrup

or any other sweetener

1

tbsp

roasted nuts or seeds
Instructions
Place all ingredients in a bowl and mix quickly. The amount of water can vary. Better to add a little less water first.

Heat pan with oil and add a ladle with dough. Fry for about 2 minutes on each side and serve.
Notes
We used apple pulp because it is naturally sweet and does not contain added sugar. In many shops you can get this in glass in organic quality. If you like it sweeter, you can also use apple sauce or add sugar.
The mineral water should contain as much carbonic acid as possible to make the dough fluffy.
If you want to pimp the whole thing, you can add vanilla or cinnamon. And with margarine it can also be used directly as waffle dough 😉